Josh Knox
Director of Production
At the age of 13, Josh began his career in the Texas roofing industry with his father.  He has held the positions of an estimator, production manager, and a branch manager. He is proudly an owner & the Director of Production for The Alden Roofing Company and is a board member of the Roofing Contractors Association of Texas.  Josh and his wife, Melanie are happily married with three little boys.  He enjoys coaching them in football and baseball, as well as taking them golfing and fishing. In his free time, he takes every opportunity he has to travel with his family.  Josh acquired his essential position with The Alden Roofing Company because of his hard work and understanding of the roofing industry in Texas.
---

Melanie Knox
Director Corporate Operations
Melanie is an Owner and holds the position as the Director of Corporate Operations for The Alden Roofing Company.  She serves on two committees for the Roofing Contractors Association of Texas, is the President of the Central Texas Roofing Contractors Association and has 17 years of administrative and management experience in bot the construction and legal fields.  Melanie is married to Josh, the company's Director of Production. Together, they raise two boys and enjoy spending quality time with them. In her free time, she likes to do Yoga and introduce her sons to theatre and fine arts.  Melanie's specialized knowledge allows her to skillfully manage and control all corporate operations for Alden Roofing.
---
Daniel Alden
Senior Project Manager
As one of the founders of The Alden Roofing Company, Daniel has been in the roofing industry since 2004. He has accumulated over 30 years of sales management experience and is the company's senior estimator. Daniel is happily married and is a proud father of two daughters and two sons. In his free time, he loves playing cards with his family and spending time with his three grandchildren. Daniel takes every opportunity he gets to play basketball and is very passionate about music. The Alden Roofing Company benefits significantly from Daniel's knowledge and experience in the roofing industry.
Dan is known for his top-notch customer service — read a special letter from his referral clients here!
---
Jason Roderick
Senior Project Manager
Jason has 18 years of new home construction management experience as well as years of customer service. He began as a Project Manager for Alden Roofing in 2014. He brings a strong knowledge of many aspects of home building to Alden Roofing. Jason is happily married with five children and has raised his family in the Austin area for the past 19 years. He takes any opportunity he gets to spend time with his family in the outdoors camping, and dove and deer hunting. Jason is devoted to his faith and is an active member of his church. His dedication to everything he does from raising his children to his work makes him an invaluable asset to our team.
---
Mark Alden
Senior Project Manager
Mark is one of the founders of The Alden Roofing Company. With over 30 years of construction experience, he is proficient in an assortment of positions, such as: laborer, supervisor, foreman, and project manager. When he has free time, he loves spending it with his loving wife, Carrie and their five children. He also enjoys reading books, playing card games, and enjoying a cup of coffee while conversing with his friends. Marks accumulated knowledge and experience in the construction field has become a substantial asset to our company. He proudly serves as one of our Senior Estimators.
---
Chad Bohannan
Project Manager
Chad comes to Alden with more than 5 years of residential roofing and construction experience. He served 6 years in the United States Marine Corps with 3rd Battalion 1st Marines as a machine gunner. Chad is originally from Merkel Texas and currently lives in Austin with his girlfriend Sara, his two boys Bryson and Brandyn, and their two dogs Lulu and Cash. Chad is also very active in his church where he serves as an ambassador.  He enjoys fishing, biking, basketball, photography, and spending time with his family. His military work ethic and many years of experience makes him a valued member of our team.
---
Michael Reese
Project Manager
In 2001 I started as a property claims adjuster. I worked with many major players in the Insurance industry.  In 2011 I began working in the roofing industry with a family business. I have three beautiful children and four grandchildren that I am grateful for. I enjoy golfing, hunting, fishing and being a student of life. My goal is to give back to those less fortunate and bring joy wherever I am.
---
Patrick Allen
Project Manager
Patrick is a Project Manager with more than two years of construction experience and nine years of management with a focus on customer connection. He has lived in central Texas for six years with his wife and three fantastic children.
He enjoys reading fiction, writing, and watching films in his leisure time. Patrick enjoys the interactions his position allows him to have and giving back to his community.
---
Ashley Bedford
Project Manager
Ashley joined the Alden Family with 12 years of Customer Service experience under her tool belt. She has explored numerous roads of sales and customer relations. She aims to make the lives of all of her customers brighter and easier.
Ashley has been with her life partner, Victoria, for five years. Together, they enjoy hiking with their rescue dog and lounging with their fluffy cat. Ashley enjoys playing music and spending football nights cheering on her favorite football teams. As a Native Texan, Ashley strives to support her Texas roots by providing quality service and reliable shelter with the help of her trusted team, Alden Roofing.
---

Chris Daugherty
Project Manager
Chris Daugherty is a credentialed CertainTeed ShingleMASTER and first joined Alden Roofing in November of 2008. He has many years of estimating and project management experience in commercial and residential construction and service including roofing & framing, residential remodel, plumbing, structural steel fabrication, concrete work, foundation construction, and foundation repair.  He also has a great deal of experience working with homeowners and businesses who have suffered storm damage and catastrophic loss.
Chris is originally from Brenham, Texas.  He is married to Carmen and they have four grown children.  Chris is an avid outdoorsman and enjoys playing team sports. His primary avocation is studying and learning the Spanish language.
---
Wendy Wooten
New Construction/Production Manager
Wendy has worked in many areas of the roofing industry from reroofing to new construction roofing. She came to Alden Roofing with years of experience and a fun attitude. She is not only very skilled and organized in the work she does but is a pleasure to be around. She is a mother of two active girls in dance and Girl Scouts. Wendy enjoys goofing around with her family and friends and catching NKOTB shows when she can.
---
Thomas Alden
Production Manager/Inspector
Thomas Alden started working for Alden Roofing, his family's company, at a young age when they opened their doors. Being an Alden, he has grown up in the Construction industry. Thomas has worked his way up to a skilled InstallRight Inspector before being promoted to the Production Manager. He started canvassing then worked as a Project Manager before becoming our InstallRight Inspector and Production Manager. He enjoys all aspects of his job, especially meeting new customers.
---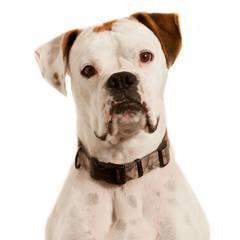 Riggs Alden
Team Mascot
Riggs Alden is a hard-working member of the Alden Roofing Team. He is a true mascot as his personality and good looks lift the spirits of any Alden Roofing Team Member or customer he meets. Riggs was adopted in Brownwood, Texas by Thomas Alden in 2014 and became an immediate part of the Alden Roofing Family. When Riggs is not working hard, he enjoys a good rib-eye steak, tearing up stuffed animals, and playing with anyone who will give him attention or a scratch behind the ear!
---
Ann Stanley
Administrative Assistant
Ann has been serving The Alden Roofing Company as an administrative assistant since 2010.  As our communication specialist, she sets the appointments by analyzing our customer's information and distributing it to the right estimator.  For 27 years, Ann has been happily married to her husband Danny, whom she has four children and five grandchildren with. Aside from spending time with her family, in her free time she enjoys cooking, gardening, and ceramics.  Ann is a true asset to The Alden Roofing Company, she enjoys her position with us because "every day is an opportunity to help either a customer or a fellow employee."
---

Shawn Collie
Contract Support Specialist
Shawn brings to Alden Roofing over a decade of experience in customer service and invaluable insurance knowledge. He is the proud father of two daughters, the youngest of which is often seen creating a mess (drawings) around the corporate office. During his down time, Shawn can be found running around with a camera in hand or out pursuing his 25+ years of "playing" on a skateboard. He is proud to be part of the Alden Roofing family and is excited to put his years of experience to work for all Alden Roofing customers.
Thanks for taking the time to read about our incredible Texan roofing team! If you have any questions, or would like to work with us, contact us today via the button below!
---